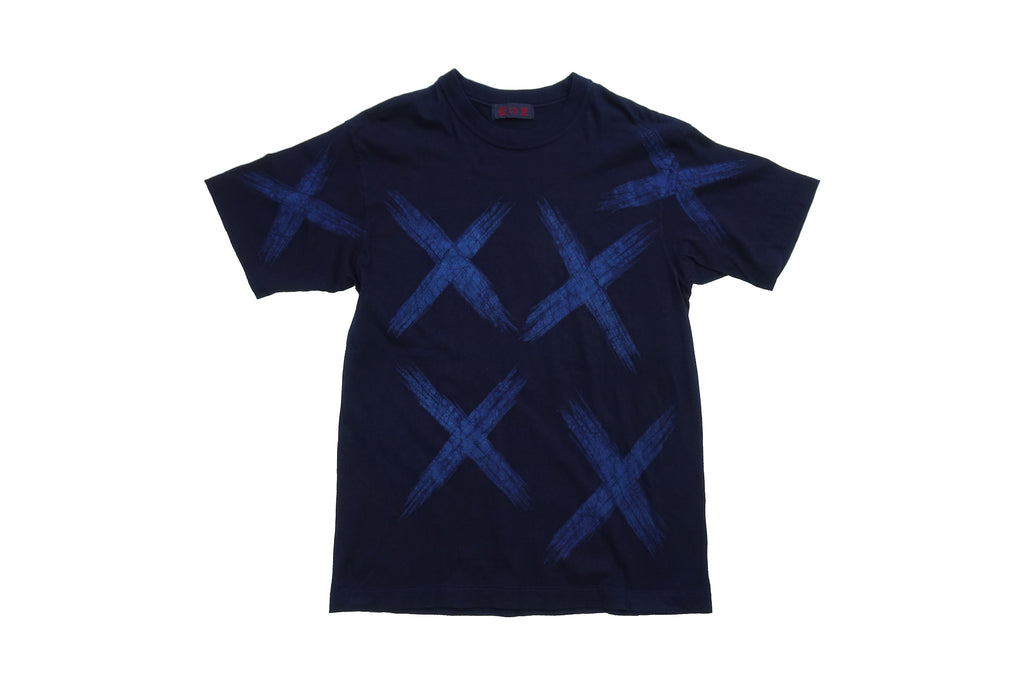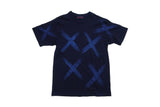 SUKUMO T-Shirts - ROKETSU -
$240.00
T-shirts dyed in Japanese natural indigo.
Color: ROKETSU (Japanese batik pattern)
100% cotton. Made in Japan. Tubular knit.
Unisex. Small-medium for men. Medium-large for women.
Armpit to armpit: 47cm / 18.5 inch
Shoulder to shoulder: 46cm / 18.1 inch
Back height: 69cm / 27.2 inch
Sleeve length: 20cm / 7.9 inch
Only one available. 
The history of Japanese indigo dye "sukumo" goes back to the 14th century and flourished throughout the 18th century. Hundreds of indigo farmers in the Awa region (now Tokushima prefecture in Shikoku Island) harvested leaves of Japanese indigo, polygonum tinctorium in summer, and fermenting them in winter to create "sukumo." The crumbly dye was shaped into cubes or balls and transported to indigo dye houses in major cities of Japan. After synthetic indigo was invented and widely imported throughout the world in the early 19th century, indigo farming in Tokushima was greatly reduced. Today just five families have survived and continue their work. The Toyama family is one of these. SUKUMO T-shirts were hand-dyed by master indigo dyer Naoyuki Asai in Kyoto with "sukumo" from the Toyama indigo farm.
The cross patterns are applied with Roketsu, Japanese batik technique.