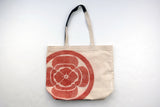 Nobori Tote - Plum -
$165.00
This stylishly versatile, one-of-a-kind tote is made of vintage "nobori" or Japanese fabric banner. The exceptional banner is roughly 50 to 100 years old. It's original use is unknown but like most nobori it may have been used at a store front, a festival or other seasonal event. 
We selected the part with the "kamon" (family crest) to make a market tote perfect for daily use. This kamon is called "Mokkou" (木瓜) and it features the outlined image of a bird's nest holding eggs or sliced melon. 
Unique piece. 
Hand-sewn in Brooklyn, NY with vintage textile from Japan. 
Lined 
H38 x W47 x D14cm / H15 x W18.5 x D5.5 inches 
H69cm / H27 inches including handle. 
Color: Plum
*Due to the nature of vintage fabric, the product may have fades, fabric pulls, wears, stains, small holes or patches. We hope you will enjoy the richness and variation of repurposed fabric. Please note the print of the vintage fabric may rub off or bleed by washing. Please use with care. Dry clean or hand-wash in cold water is recommended.